I know what you're thinking...Why so late? Well, RL and other postings here on LJ seemed to take over for a while and somehow finishing up my VanCon entries from last year got put on the back burner. But now I'm ready to get these done and share them with you all. :D



Got to noticing my photo-ops from VanCon 09 wound up on Google which was a little...weird. So this time I'm making this a flocked post. Please don't re-post these anywhere else. Thanks!

Now, let's see what can still remember...ha!

Day 1 - Katherine Boecher

Katherine is a delightful lady. Funny how both times now, my first photo-ops have been with female guests. Anyway, as soon as I stepped up to her, she noted how happy I was. "Look at you! You're so happy!" Naturally, that made me smile even more. :D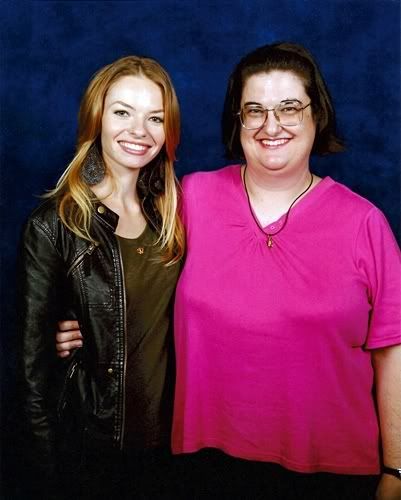 Day 1 - Matt Cohen

Since Matt was at the Con for two days, you could use your ticket for either day. With him in that sexy black t-shirt I knew I wanted my photo-op on the first day! He is so slim and built! So much thinner than I imagined and a total sweetheart. Don't recall what we said, probably just hi and thank you.




Day 1 - Jason Manns

Right away I was struck by how tall Jason was. Wasn't expecting that for some reason. He's very soft-spoken and reserved, too...very much like like his buddy, Jensen. ;)




Day 1 - Aldis Hodge

I'm so glad I started watching Leverage. Now I have even more reasons to love Aldis. *g* He had really bulked up since 09, but like with a lot of the guys, I'm just happy when they're taller than me. Hee!




Day 1 - Richard Speight Jr.

Richard's one of my favorite guests, so a photo with him was a given. Luckily, I'm only slightly taller than he is. He always greets you with an energetic "Hi!".




Day 2 - Fred Lehne

I've heard stories from other fans about having rough experiences with Fred (his past drinking problems, whatever). Still, I really had no idea what to expect. Even while in line inside the room I got to noticing that he was taking the time to talk to each person before the photo was taken. He would ask everyone where they were from. So I got up there, told him I was from Washington and we actually had quite a little chat (I'm sure Chris was chomping at the bit!). I won't go into the whole story because I don't want people to take it the wrong way, but I'll say that at the end of our little chat Fred kissed me on the cheek! *squee* Also, a little weird 'cause I was thinking, "OMG I've been kissed by the YED!" LOL Anyway, I had no problem with Fred and I'm glad he was taking the extra time with the fans like that. Very rare to have that in the photo-ops.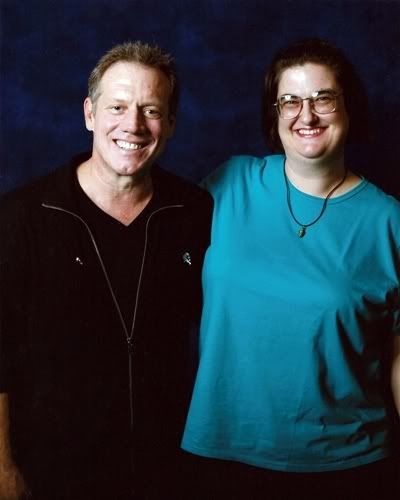 Day 2 - Rob Benedict

Rob's such a short little dude and at first I wasn't sure I wanted a photo with him. Would I tower over him? Turns out he's not all that much shorter than Richard, so I went for it. :)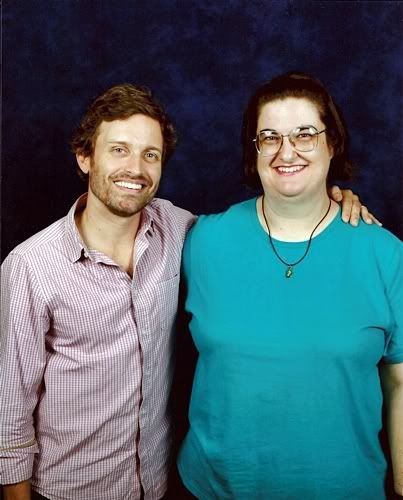 Day 2 - Misha Collins

You would naturally assume J2 would have the longest lines for photo-ops? Nope, Misha's got them beat in that department. The line went down one hallway, around the perimeter of one room, and back down the main hallway. LONG wait time. Ooof!

Ugh. Let me just say that I'm not happy with this picture at all. *sigh*
I don't know what it is about Misha. In 09 he wasn't smiling and last year I didn't smile. I got up there and somehow forgot to smile or was in mid-smile or something. Maybe it was asking for a hug? I don't know. Right away I knew it was going to be a disaster and sure enough when I picked up the photo it was as bad as I feared. Bleh. I think somehow he intimidates me when I step up next to him. It's weird. But, third time's the charm...I hope, for this year. So do me a favor? Please don't look at me in this photo. Look at how nice Misha looks...inside out jacket and all. :P




Day 2 - Samantha Smith

Most guests will stand to your right during the photo-ops, but Samantha was different, insisting on standing on the other side. Right away I mentioned about my right shirt sleeve because it was a bit wrinkled from carrying around my backpack. She said, "Oh, no problem. I'll just put my hand over it." And so she did. Sweet gal. I really liked her. :)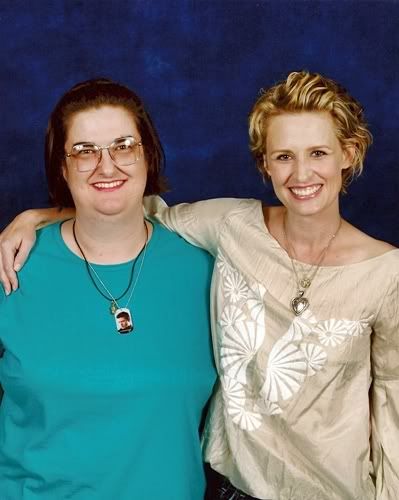 Day 3 - Jensen Ackles

Oh, boy! Jensen! *squees* I'd bought 2 photo-ops with Jensen and right up to the day I wasn't really sure what to do for the 2nd one. I'm not one of those people who goes around asking for hugs and I don't want to make the guys feel all awkward, so asking for it this time was a big step for me. First of all, Jensen in that black jacket was quite overwhelming! Good golly! I remember standing in line thinking there was no way I was ready, even though I'd done this the year before. The line moved so fast, too! Pretty soon I was there. First one done which was the standard kind and then I had to remind Chris that I had a 2nd one. Jensen was all set to step on my other side (Really? What's so different about that, Jensen?) so I asked for a hug for this one and he said "Okay". Sadly, he didn't return the hug. *le sigh* Oh, well. At least I can say I've hugged Jensen now...sorta. :P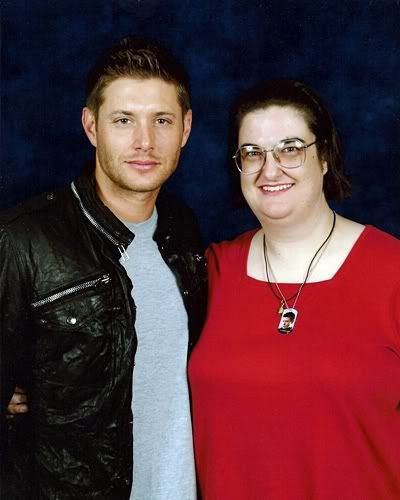 Day 3 - Jensen & Jared

Just a note about Sunday's photo-ops...Creation did things differently this time, having everyone w/tickets go sit in the main ballroom and wait to be called row by row up to the photo-op room. They did this for all 3 of Jensen & Jared's photos and it worked pretty well. At least you didn't have to stand so long in line (like for Misha's on Saturday, OMG it was HUGE!).

This photo just goes to show you how perceptions can be wrong. LOL I got up there in between them and thought for sure they were both pressed up pretty tight to me. Nope. Turns out, at least with Jared, that it wasn't all that close. Heh. Oh well. It

felt

wonderful! Oh boys...how awesome you are. I always enjoy the photo-op with the 2 of them and hell, who wouldn't? :D




Day 3 - Jared Padalecki

A little background: At VanCon 09 I had asked to shake Jensen's hand after the J2 photo and he eagerly obliged, much to my delight (you know my love of his hands). So I thought this time I would do the same for Jared. Get a comparison, if you will. But how to ask? Somehow I was reluctant to just ask him like I had with Jensen. While standing in line I got to talking to some of the gals ahead of me. One of them wisely suggested just walking up to Jared with my hand out, that the natural thing to do is to shake a person's hand in that instance. Sure enough, it worked like a charm! I shook his hand, we took the photo (got an awesome hug, too! *glees*) and I thanked him for coming and he was his usual gracious self. *happy sigh* I hate to say it, but I like my Jared photo-op better than my Jensen ones this time around. *hears gasps from my fellow Jensen girls* I can't help it. Look at the photo. :D

I will say this though, having shaken both of their hands...Jensen's was far more memorable. I really can't remember Jared's handshake. It was good on the firmness scale, just like Jensen's, but...I'm still a Jensen girl. I still remember how his hand felt in mine. *dreamy sigh* No joke. I look back on that moment all the time. ♥ ♥ ♥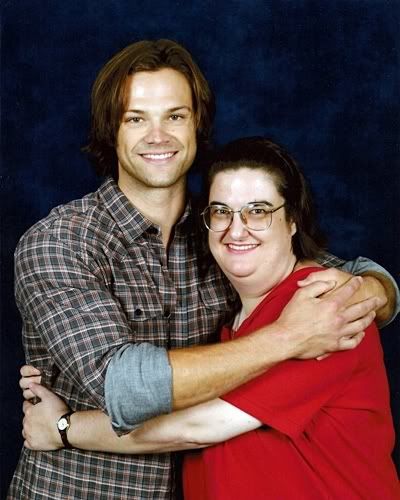 And there you have it. I still remember the ones where I had more of a moment with the guests. I do wish I'd splurged a bit more and gotten photos with a few of the others, but there's always this year. *g* Friday was the most jam-packed. Phew! I was exhausted from the photo-ops alone! I got photos with everyone that day. :P



To see my other photos from VanCon, please use my

VanCon 2010

tag.




Here's one more bonus pic, because I don't know where else I would put it. It's various mementos from the convention.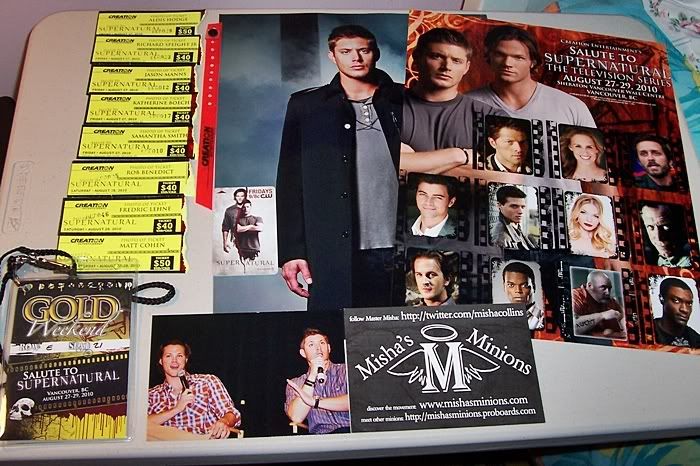 Clockwise from the bottom left: My Gold Ticket lanyard, 8 Photo-op ticket stubs, my Gold bracelet (which I didn't cut off until I got home), the hotel key card from Comic Con 2010 that
twasadark

sent to me (I put it inside my lanyard), Creation's free gift of a Jensen poster, the Convention poster, the Misha's Minions card given out by a fan in the registration line on Friday, and a photo of Jared & Jensen from VanCon 09 that I got from a fan while waiting in an autograph line (she was handing them out to everyone, saying she'd printed too many - heh).