It's that time again...time to figure out what I want to have signed by the guests at VanCon.



Seems like it's getting more and more difficult every year. Last year I had Jensen & Jared sign a bag from Comic Con that
corellian_sugar got for me. In the past, of course it's been pictures, either my own or printed promo pics and such. As far as the other guests go it's always been pictures I printed at home or occasionally bought in the Vendor's Room.

One thing I'm thinking about is that this might be my last chance to see Jim Beaver or have him sign anything. He hasn't been at VanCon since the first one in 2009 and with Bobby dead, who knows if and when he'll be back. His days at attending SPN cons might soon be over, especially here in the US.


Here's the options I'm considering:

♦ Go the usual route: Have everyone sign photos, though I do plan on having Jim Beaver sign my copy of his book, "Life's That Way". But I can easily swing purchasing another auto ticket for Jim to sign something else as well.

♦ I could have everyone sign this Impala poster I got at last year's VanCon (thank you again,
hells_half_acre). It would be easy to tote around all rolled up because it isn't that big.



♦ I could have Jensen, Jared, Jim, and Misha sign this cool (and rare) Impala made of iron that
bardicvoice had made for me back in 2009. One of these is even on the wall in the production offices at the studio up in Vancouver. Why just those 4? Because along with the Impala they've been the biggest constants. The main issue here would be that this thing is kinda big and bulky (not to mention a little heavy). I could fit it in my backback, but it would stick out of the top. But...what a cool and rare thing to have autographed!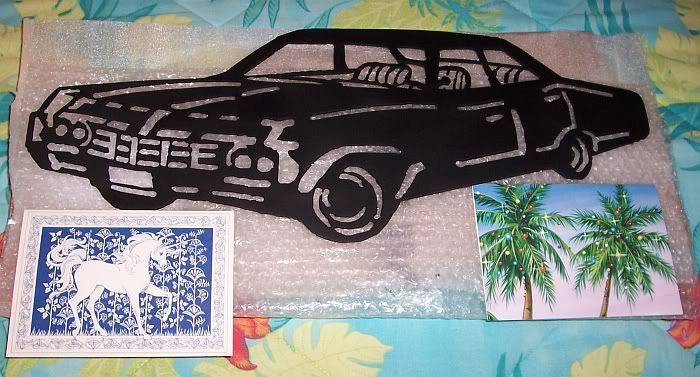 ♦ I also could have Jensen & Jared sign the TV Guide cover from a year or so ago. I bought 2 of the issue, always intending on having one of them signed, but then last year I got that cool Comic Con bag and decided to go with that. The TV Guide cover isn't my favorite pic of the guys (a little too photoshopped IMO), but it's still a special thing, that we got them the first cover.

♦ Then there's the Comic Con special issue magazine from this year with the 2 covers. I only bought one because that's all I could find. Then you have that whole complication of it having two sides. Do you have the guys sign one side or each sign their own side? Kinda tricky, but I do love the covers.

♦ I've considered printing one of those gorgeous promo pics of Jensen that andreas released on my birthday this year. BUT, with no new pics of Jared or even of the two of them (the last we got was from S4 o.O)...I'm not sure I want to go that route.


So there you have it. Thoughts? Opinions?