Over a month after the convention and I'm finally ready to start posting my photos. :P
Hey, these things take time. Hopefully you'll think of these photos as a fine wine, worthy of the time it takes to perfect.

NOTE: If you're looking for my thoughts about the panels, you'll sadly be disappointed. I've learned that you either pay close attention to the guests (sometimes taking notes or Tweeting) or you take photos. You can't do both. It's impossible. At least I can't. So my memories of the panels is foggy at best. I'll have to watch videos shot by others to refresh my own memory. :P

This was a great panel. Misha and Jim were a delight (as one would expect). Jim was looking very trim and Misha was looking rather sexy with a beard. Having a couple of talented fans deface two SPN posters with Jensen & Jared & then auctioning them for charity was a definite bonus. I wish I could remember more of the panel and what questions were asked, but it's all a blur. Surprisingly, I don't have a lot of photos from this panel, but I think that's mostly because they were both moving around a lot on the stage.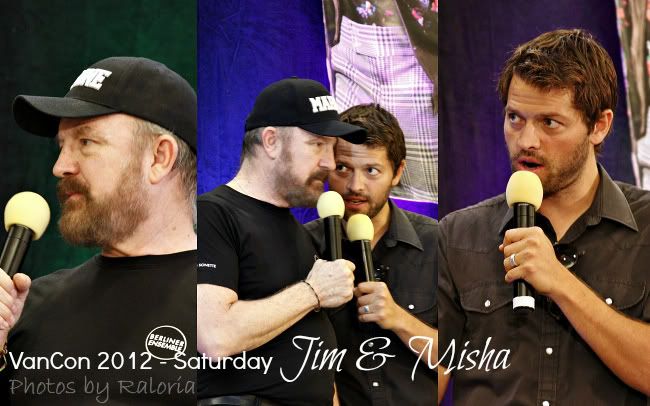 :: No hotlinking please.
:: If you take/use/repost, please credit me,
raloria.
:: Feel free to repost anywhere, but if you do PLEASE DO NOT remove my watermark. Thanks!
:: If you make any fanart/icons from my photos I'd love to see them! Drop me a link in comments. :D
:: Comments are ♥ and I really do appreciate them.

via MediaFire (94 Photos)
010 VanCon 2012 - Misha C & Jim B Photos By Raloria (Pt 1).zip (109mb)
010 VanCon 2012 - Misha C & Jim B Photos By Raloria (Pt 2).zip (111mb)