Sorry it's taken so long to post this last set of photos. RL got crazy (still is). Next I'll be preparing to post some miscellaneous photos (the convention hotel, a fan's Impala, Saint Andrews, etc.) and then my Filming Location pics.

Over a month after the convention and I'm finally ready to start posting my photos. :P
Hey, these things take time. Hopefully you'll think of these photos as a fine wine, worthy of the time it takes to perfect.

NOTE: If you're looking for my thoughts about the panels, you'll sadly be disappointed. I've learned that you either pay close attention to the guests (sometimes taking notes or Tweeting) or you take photos. You can't do both. It's impossible. At least I can't. So my memories of the panels is foggy at best. I'll have to watch videos shot by others to refresh my own memory. :P

Richard simply can't get enough of these conventions and of course we fans feel the same. So it was all too fitting to give him another panel to wrap up the weekend's festivities. He was once again out in the audience so it was difficult to get photos of him. Then Jensen came out on the stage! He had finished signing autographs and was waiting for Jared to finish with his. What a great surprise! After a bit Jared joined him and it was great fun to see the 3 guys on the stage, having a grand old time. Then the boys left and Richard ended the panel by relaying the long but fascinating story of how he got the part on Band Of Brothers and ended up tracking down the soldier's family (which was done before the internet/email). It was a touching and quiet way to wrap up the convention and Richard summed it all up perfectly with his final statement: "I'd rather be here with you people today, then with the best people in the world!" Thx hells_half_acre for the quote!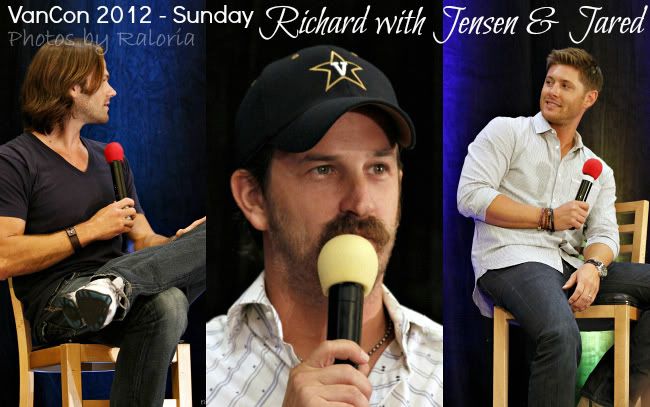 :: No hotlinking please.
:: If you take/use/repost, please credit me,
raloria.
:: Feel free to repost anywhere, but if you do PLEASE DO NOT remove my watermark. Thanks!
:: If you make any fanart/icons from my photos I'd love to see them! Drop me a link in comments. :D
:: Comments are ♥ and I really do appreciate them.

via MediaFire (108 Photos)
013 VanCon 2012 - Richard & J2 Photos By Raloria (Pt 1).zip (130mb)
013 VanCon 2012 - Richard & J2 Photos By Raloria (Pt 2).zip (131mb)