Ah, so much Jensen goodness in one day! First, there was seeing him on the Megan Mullally Show and then of course in "Simon Said" later on. I normally would have my review of the episode up by now, but I chose to make screencaps of Jensen on the MM show instead. Of course, this took longer than I expected. I ended up making over 90 screencaps! Realizing I couldn't keep them all, I narrowed it down to a little over 20. Then there were all the adjustments to be made in Photoshop with contrast, etc. Long story short, I don't have them all done yet. But I wanted to let everyone know that I'm working on them and hope to have them up by the weekend.
But so you get an idea of what's to come, here's a little preview...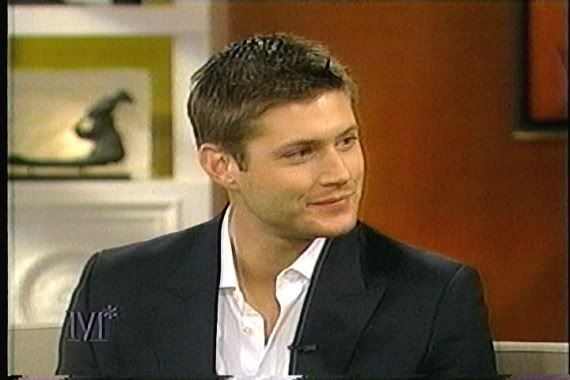 *Sigh* He looked amazing! The white shirt, unbuttoned...*whimper*. I tell you, it was sheer torture looking at him frame by frame grabbing those screencaps. Yeah, right! Mmmmmm...so handsome! To me, Jensen is just classically handsome.
So the screencaps and my review of "Simon Said" will be done sometime this weekend. Just too much to do and not enough time. Seems like that's the story of my life.