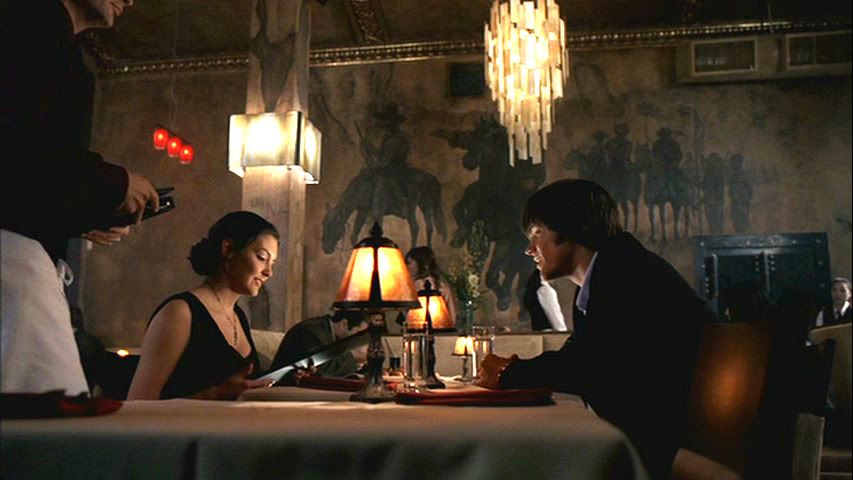 This cap is from 1x19 "Provenance".
Click to see the full-sized cap.
Yesterday's Cap Location: The City Centre Motor Hotel in Vancouver.
Thought we'd go interior today. Where was this scene filmed at? Such a lovely setting for Sarah and Sam's date. Hope you're enjoying Locations Week. :)
The noise from the 4th is over and the neighborhood put on quite a show. Wish it had warmed up more. We barely got to 70 degrees during the day and once the sun set you definitely needed a jacket outside as the temps dropped into the low 60s. They keep promising warmth in the forecast, but I'll believe it when I feel it. Tired of freezing and having to turn on the heat in the house. It's friggin' July!!! /weather rant
Have a good Thursday my friends. *hugs*
Didn't really plan out what I was going to do last night. Usually I have an idea, but working on the Locations List is really first and foremost on my mind at the moment. But I still went out and checked out what our neighborhood pyrotechnics were. As usual, they didn't disappoint. I swear these people spend more for fireworks than they do presents at Christmas! It's gotta be thousands of dollars. Crazy!
There's 11 videos here, all fairly short (most are barely a minute). I tried to take some still pictures with my big camera, but it just wasn't cooperating and by the time I figured out the settings I was cold and my back was killing me. Videos are better anyway, right? They're not the greatest quality since they were done with my little Kodak camera, but they're not too bad.
July 4th 2012 Fireworks - #1 from Val S. on Vimeo.
(
Collapse
)