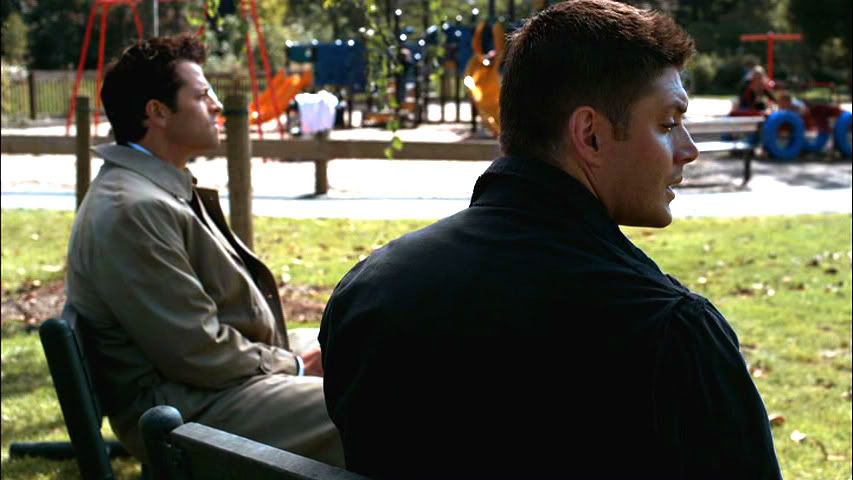 This cap is from 4x07 "It's The Great Pumpkin, Sam Winchester".
Click to see the full-sized cap.
Feeling overwhelmed ATM, so have some Dean with Cas on the side.
So exhausted, sore, and tired right now from a very long and busy Wednesday. Today will probably be more of the same. Sometimes I wish I could just run away.
Have a good Thursday folks. *hugs*
You can all blame
big_heart_june
for these. *g*
She posted some awesome pics back in April and I made these icons a few days later. Why the delay with posting them? Well, first I got sick for an entire month and then I was thinking the icons weren't all that great, so I've been reluctant to let them out in the world. But what the heck, here they are. I'll let the world judge if they're good enough. :P
The first 5 are from Behind The Scenes photos of the guys filming S7's "Defending Your Life" and the last 2 are of Dean from S3's "Dream A Little Dream Of Me" (I believe).
~~~~~~~~~~~~~~~~~~~~~~~~~~~~~~~~~~~~~~~~
+ No Hotlinking!
+ Please don't alter the icons in any way. These are not bases.
+ Please credit me,
raloria
.
+ Comments are love! ♥ :D
~~~~~~~~~~~~~~~~~~~~~~~~~~~~~~~~~~~~~~~~
JABTSBack001
JABTSBack002
JABTSBack003
JABTSBack004
JABTSBack005
SPNDeanHRL01
SPNDeanHRL02