Due to
blackbirdj2's question (and no, it's not silly), I decided to make a little entry about the SPN trailers that Jensen & Jared use during filming. This is put together from video footage from the S1 DVD extra "A Day In The Life of Jared & Jensen", on the set photos, interview info., and my own knowledge of travel trailers.


This is the basic layout of Jensen's trailer (and Jared's was exactly the same, just a different color scheme) for S1. I wouldn't even try to guess the size of these trailers, but they're fairly large, with everything you'd expect in a house - bathroom w/shower, bed, couch, table, fridge/freezer, kitchen sink, closet & storage areas. If you watch the "Day in the Life of" featurette you'll see a lot of this in Jensen's trailer, although briefly. He's got a TV just inside the door in the corner.




Now according to an interview Jensen gave (probably over a year ago), they had to replace the trailers he and Jared were using sometime in S2 because they developed leaks. So they're using different trailers than you see pictured here, but they're probably very similar.

Here's a look at the outside of Jensen's trailer from the "Day in the Life of" extra.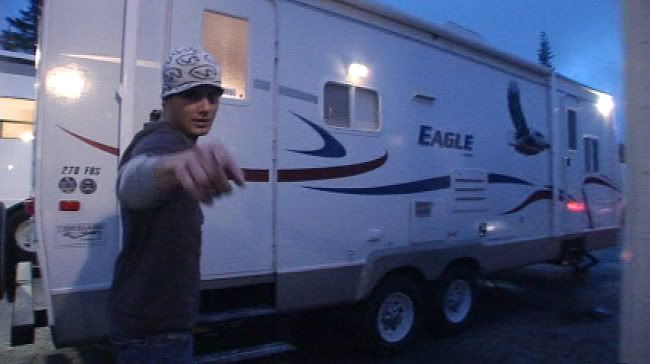 This is a good look inside Jensen's trailer. You can see the couch behind him, along with the dining area table and closet. Off to the right, you can see the bedroom and that little wall on the edge of the picture is probably the bathroom.




One of my favorite on the set photos of Jensen in his trailer, going over the script pages for the day. Check out the pairs of jeans hanging in front of the closet.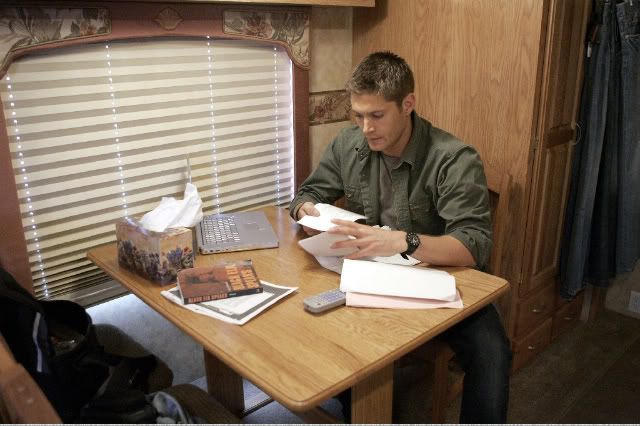 A nice photo of Jared with Harley and Sadie on his trailer's couch.